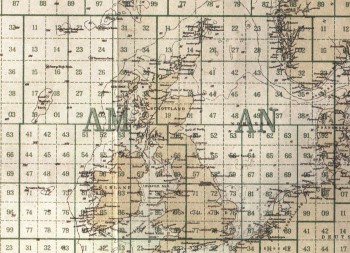 During the Second World War, German U-boats and surface ships used a series of maps or charts that employed their own quadrant system to avoid passing along vital location information to their enemies. The entire world was divided into quadrants and these were further subdivided down to a 6 sea mile by 6 sea mile square. A detailed description of this
Kriegsmarine Marinequadratskarte
with some illustrations can be found at a number of locations (
1
,
2
and
3
). There is also
a small program available
that will convert any 6 digit
Kriegsmarine Marinequadratskarte
to latitude and longitude values (although not vice versa). Sadly, there doesn't seem to be any images of original naval maps about.
One of the sites linked to above,
U-boat.net
, has a very thorough web-accessible database on
the more than 1,100 U-boats that sailed during the war. As well as including information on their commanders, when they were built and what ships they sunk, the database also includes the coordinates of the locations where the U-boats met their end. The website also provides
a number of maps showing the locations of U-boat sinkings
. The site also provides a listing of Allied warships involved in the war but does not provide any information or maps on the locations of their sinkings.
German Naval History
, another of the sites mentioned above,
also has a number of java applets
that display some of the naval battles that German surface ships were involved in. The maps are a bit clunky but effective in showing the movement of ships during battle.